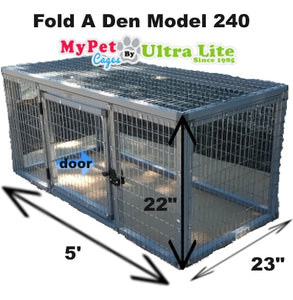 FREE SHIPPING
Made in the USA
22" (H) x 5' (W) x 23" (D)
30 lbs. (actual cage weight)
1 door
Perfect for Small - Medium sized animal
Single story animal enclosure
Indoor/Outdoor cage
Collapsible cage
Easy Set-up: Two piece construction for easy setup and tear down.
Popular purchase for: small dogs, medium sized dogs, dog shows, bunny, cat, ferret, turtle, kinkajou, outdoor playtime, training, crating, travel in SUV or truck, hotel stay.
Sturdy Build: Constructed of 1"x2" .14 GA. galvanized welded wire, powder coated black or white, and Ultra Lite's own white or dove gray 1" square vinyl tubing and matching fittings.